Scandlines has reduced fuel oil consumption by 40% in the past two decades by implementing numerous green technologies in their four Puttgarden-Rødby ferries. "It's a never-ending search for fuel savings," said Fini Hansen, Scandlines' Technical Superintendent of Fleet Management. "Scandlines is making a significant investment in new green technology that will benefit the people in the areas adjacent to the harbor and beyond in terms of reduced pollution. We invest responsibly in tomorrow's technology leading towards a greener future."
These remarks were made at Rostock Ship Machinery Conference (Rostocker Schiffsmaschinerntagung), September 21, 2017 at a presentation entitled, Green Agenda: Scandlines experiences with implementing Green technology.
Scandlines operates ferry routes between Denmark and Germany. Since 1997, Scandlines has invested in a wide range of technologies and designs—from propellers and hull design to LED lights and heat recovery systems—in an effort to reduce load, fuel consumption and emissions. Since 2012, one of Scandlines' major focuses has been on using battery-based energy storage systems (ESS) to supply electrical power.
Corvus Energy is Strategic Partner in Hybridization
From the beginning, Scandlines has partnered with Corvus Energy to design the lithium ion battery-based ESSs into the hybrid diesel/battery electric propulsion systems. "Corvus is an important strategic partner in our continued implementation of new technologies to improve the operational efficiencies and reduce the environmental impact of our ferry fleet. Their innovative battery technology enables significant vessel performance improvements in both areas which also supports our ongoing commitment to service excellence," said Søren Poulsgaard Jensen, Scandlines CEO.
The migration to hybrid ferries has taken place in three stages to date:
2013 – Prinsesse Benedikte – Scandlines' first hybrid retrofit of a 1997-built passenger and car ferry went into service on the Puttgarden-Rødby route. The 1.6 MWh Corvus battery bank on board is used primarily for low speed in-harbor propulsion, load-levelling, and house power, and can propel the vessel on battery power alone for 20 minutes.
2014 – Deutschland, Prins Richard and Schleswig-Holstein – Three hybridized passenger and car ferries went into service on the Puttgarden-Rødby route. Again, the Corvus battery banks provide low speed in-harbor propulsion, load-levelling, and house power. In addition, Scandlines added exhaust gas scrubbers on all four ferries on the Puttgarden-Rødby route to remove sulphur and particulate matter from the exhaust gas. The combination of reduced fuel consumption and gas scrubbers allowed Scandlines to meet IMO sulphur limits in Sulphur Emission Control Areas (SECAs) by the January 1, 2015 deadline.
2016 – Berlin and Copenhagen are two new-built hybrid 1500-passenger and 480-car ferries, each integrating a 1.5 MWh Corvus battery system into their hybrid diesel/battery electric propulsion systems. The battery systems allow the diesel engines to operate at their most efficient power levels during harbor maneuvering and docking.
 Hybrid propulsion in the four Puttgarden-Rødby ferries has reduced CO2 emissions by up to 15% per crossing, or approximately 15,000 tons CO2 annually.
How Hybrid Propulsion Reduces Fuel Consumption
"Corvus batteries are used primarily to minimize diesel engines running at non‐optimal load," explained Scandlines' Hansen. "Further, this means load‐leveling function in order to keep a high level of fuel efficiency and reduced number of generating sets in service."
Analysis of fuel consumption on Prinsesse Benedikte before and after the installation of Corvus ESS reports a 14.4% reduction in fuel consumption—a significant portion of the 40% reduction in fuel consumption that Scandlines has achieved in almost two decades of fuel efficiency efforts on with the Puttgarden-Rødby ferries.
Here's a brief review of how Corvus batteries help optimize engine load and impact fuel efficiency:
Specific fuel oil consumption (SFOC) is a measure of marine engine efficiency. It measures the consumption of fuel oil per unit energy at output shaft, typically reported as mass of fuel consumed per hour to produce a KW (g/KWh).
The graph below plots the SFOC on a Mak 8M32 engine, showing grams of heavy fuel oil (HFO) consumed at various engine loads. The graph shows that the engine operates at optimal efficiency at load factors greater than 85%. This is the principle by which hybrid diesel/battery electric propulsion systems can significantly reduce fuel consumption.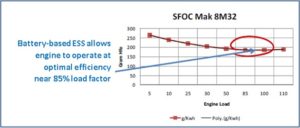 During a typical crossing, the diesel engines on Scandlines' non-hybrid ferries would operate at 40%-55% load at sea and only 10% load in ports.
The new hybrid diesel/battery propulsion systems allow the diesel generators to operate more frequently in that sweet spot of high engine efficiency. Vessels run with one diesel genset at 85%-90% load at sea and in ports. While at port, excess energy generated is used to charge the batteries. A second diesel genset may also be used to charge the batteries as needed. At sea, the battery provides the power for load-balancing to allow the diesel generators to operate at a relatively consistent base load. See the illustration below.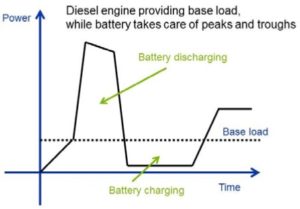 Replacing diesel generator with ESS battery bank
How do you convert a diesel electric ferry to a hybrid diesel/battery electric ferry? Scandlines' Fini Hansen describes it as a simple four step process:
Remove the 85 ton motor
Install 50 tons of batteries
Install the energy storage system (ESS) control system
Integrate into operations
The single line drawing below shows the Corvus ESS in place of the 5th diesel generator.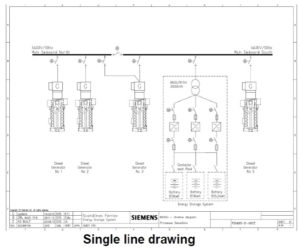 Certainly, emissions reduction was a major motivation for Scandlines' investment. Yet there are considerable economic benefits stemming from hybridization of the ferries.
The 14.4% reduction in fuel consumption equates to an impressive annual savings of 1200 KG (1.3 tons) of HFO for Prinsesse Benedikte. In addition, there have been savings in maintenance and lube oil expenses. Annual savings due to hybridization at current fuel prices are approximately 605.000 EUR (710,000 USD) for each of the Puttgarden-Rødby ferries.
Future hybridization projects will reap even higher returns, as technological advancements have improved the performance and reduced the both the size and the cost of latest generation of Corvus Orca ESS, which was released in 2016. Capital outlay for a Corvus ESS, as well as the battery room infrastructure and commissioning cost, has been significantly reduced with the new generation Orca ESS.
Continued Course Towards Greener Ferries
The technology partnership continues. Corvus Energy services and maintains the ESSs in the Scandlines hybrid ferry fleet, taking advantage of its remote condition-based monitoring service, WatchmanTM . Moreover, Corvus continues to assist Scandlines in expanding its hybridization program and moving towards its ambitious zero-emissions goal, which Hansen says Scandlines hopes to accomplish "in a few years".
"Scandlines is very pleased to continue and expand our long partnership with Corvus Energy. Beginning with Corvus in 2012, their industry leading energy storage technology has become the standard electric battery power solution for all of our hybrid vessels," said Scandlines' Hansen. "Our ambition is emission free ferries—we take one nautical mile at a time."
Subscribe to Corvus Energy Updates and Follow Corvus Energy on LinkedIn to receive all news and articles as they are posted.