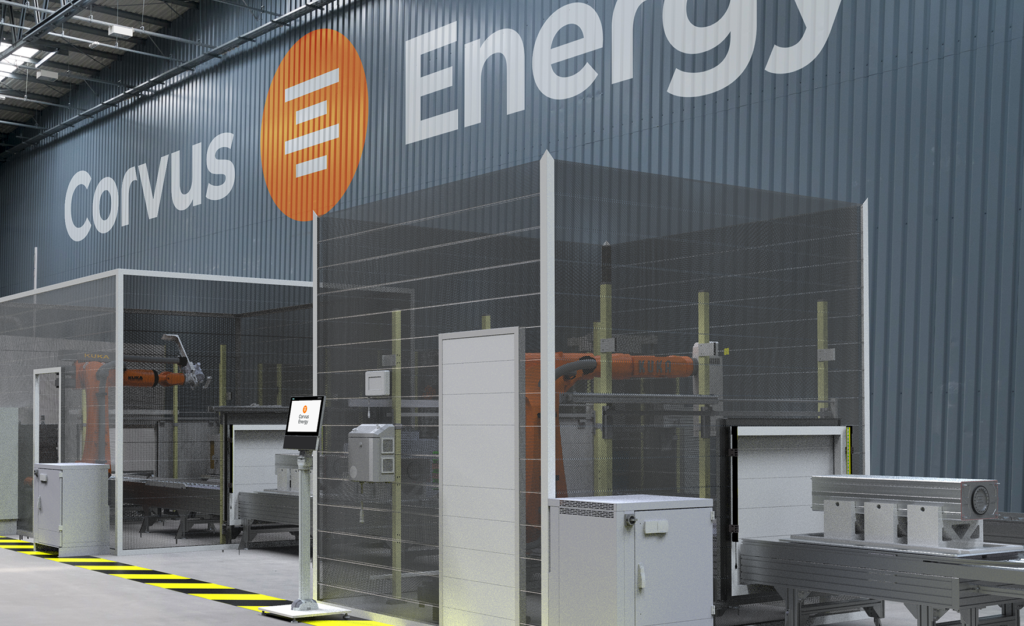 Bergen, Norway and Richmond, B.C., Canada March 25, 2020 — Corvus Energy is pleased to announce that the company is moving forward with plans to invest in its Canadian operations by expanding its Richmond, B.C. facility and increasing manufacturing capacity.
As reported in early 2018, Corvus Energy is rolling out plans for expanded maritime battery manufacturing facilities in both Bergen, Norway and Richmond, B.C., Canada. A new automated battery factory in Bergen began producing energy storage systems (ESS) in Q4 2019. Corvus is now pleased to announce that we have signed a contract for investment in new production line equipment in the Richmond, B.C. plant.
Geir Bjørkeli, Chief Executive Officer of Corvus Energy, comments, "With anticipated growth in the market, increased capacity and production flexibility are crucial to keeping up with customer demand.
"The Canadian facility will begin producing our newest multi-megawatt hour ESS, which we call Blue Whale and expect to be the cornerstone of Corvus' growth in coming years." Bjørkeli elaborates, "The market for these enormous battery systems will increase rapidly as cruise ships, large ferries and merchant vessels strive for zero-emissions operation. Some forecasts predict it will be a $1 billion USD market by 2026. Corvus is well positioned to be an innovator and market leader in zero-emissions solutions."
The total investment in research and development (R&D), plant and equipment is expected to be over $16 million USD. The R&D carried out in Richmond, B.C. is partly funded by Canada's National Research Council Industrial Research Assistance Program (NRC IRAP).
Alongside the new production line and new test facilities, Corvus plans to expand its office space and make improvements that enhance productivity, collaboration and aesthetics.
"The state-of-the-art production equipment in Canada will be based upon the same flexible robotic technology used in our highly successful battery factory in Norway," says Richard Wing, Executive Vice President Engineering and Program Management at Corvus Energy. "Using digital and automated solutions, we establish scalable, high quality cost-efficient production. Having our manufacturing co-located facilitates collaboration — in Norway with the largest sales and service team and in Canada with the engineering team — to add value to our products quickly. Further, it builds competence throughout the company as well as locally in our operating regions."
Corvus Energy plans to begin shipping Blue Whale ESS from the Richmond plant in early 2021. The two Corvus Energy manufacturing facilities will be well positioned to serve all its largest market for maritime batteries: Northern Europe, and the growing North American and Asian markets. Total capacity from both locations will be in the range of 1200 MWh per year in five distinct ESS product lines.
About Corvus Energy
Corvus Energy provides high power energy storage in the form of modular lithium-ion battery systems for marine, oil & gas, subsea and port applications. Its purpose-built, field-proven battery systems provide sustained power to hybrid and fully electric heavy industrial equipment including large marine propulsion drives. For more information, please visit www.corvusenergy.com
Media Contacts:
In Europe and Asia
Geir Bjørkeli
CEO
+47 952 73 398
gbjorkeli@corvusenergy.com
Sonja Vernøy Hansen
Marketing Communications Manager
+47 993 09 309
svhansen@corvusenergy.com
In North America
Richard Wing
Executive VP Engineering & Program Management / General
General Manager Canada
(604) 218-9541
rwing@corvusenergy.com