Today the Norwegian Shipowners` Association launched its strategy to become climate neutral by 2050 by streaming various interviews with parties and stakeholders from other locations in Norway whilst physically handing over the strategy to Norways`Prime Minister, Erna Solberg at the main event in Oslo. Part of the program was streamed from our Corvus Energy factory location in Bergen where President of the shipowners` association, Paul Christian Rieber held a welcome speech and informed about the strategy report and Siv Remøy from Maritime Bergen interviewed our CEO – Geir Bjørkeli along with Siri Anne Mjåtvedt, CEO in Utkilen and Kirsten Øystese from Norsk Klimastiftelse (Norwegian Climatefoundation).
The below article is a translated version of what was published on the Norwegian Shipowners`association web page about the launch. The content is translated into English by Corvus Energy. The original text in Norwegian can be found here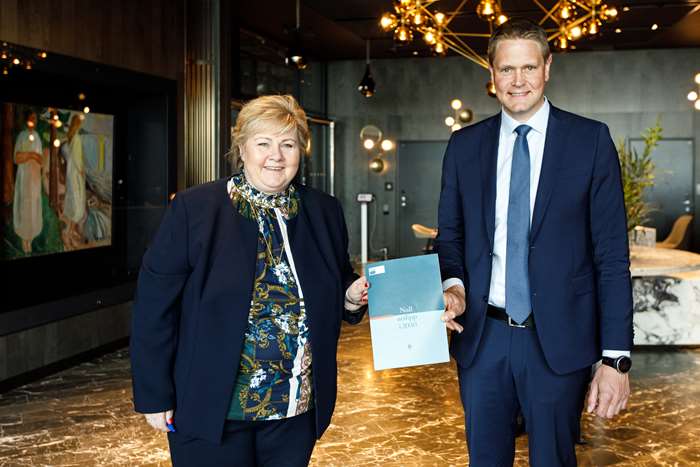 Shipping accounts for 2.2% of the global greenhouse gas emissions. Now Norwegian shipowners want take leadership in the fight against our climate challenges The overall goal is for the entire Norwegian fleet to be climate neutral within 2050.
The Paris Agreement aims to limit global warming to 1.5 degrees. The UN Climate Panel gives us ten years to cut greenhouse gas emissions by half and believes that they must be reduced to zero by 2050. Climate change must be taken seriously. If we are to succeed in slowing the effect, we must adapt quickly.
Four ambitious goals
The Norwegian Shipowners' Association have decided on four ambitious goals which is written in the climate strategy. The four goals mean that the members should; cut their climate emissions by 50% per transported unit by 2030, measured against 2008. From 2030, Norwegian shipping companies will only order ships based on zero emission technology. From 2050, the Norwegian fleet will be carbon neutral. The strategy also entails an international ban on non-carbon fuel types from 2050.
"Norwegian shipping is leading the way in setting high ambitions for the development of new and profitable green technology," says Harald Solberg, CEO of the Norwegian Shipowners' Association.
– We have high ambitions, even in areas that today do not have commercially available technological solutions. We believe ambitious goals will help accelerate the needed development. This means that the entire industry, in collaboration with the authorities, both nationally and internationally, must engage in developing new solutions, he says.
Good for the climate, good for business
Norway has a unique maritime expertise, throughout the maritime cluster. We see business opportunities and take leadership in developing new, large-scale solutions that are needed here in Norway and in the rest of the world. This will reduce global warming, provide cleaner air, healthier seas, and the basis for exporting new solutions. In this way, we will contribute to a better environment, while also creating new green jobs along the entire coast.
"We need new technology and new sustainable solutions, and development must happen quickly," says Solberg. We can manage to reach the world's climate goals and at the same time realize business opportunities for Norway as a shipping nation. We have already done a lot, and now we want to do even more, he says.
The full report can be downloaded here (only in Norwegian)