Indications are that 2018 will see a significant increase in offshore activity as oil & gas prices are forecasted to rise. As Transocean, one of the world's largest offshore drilling contractors, reported in their Q4 2017 Results earnings call: "This upward price momentum has provided some needed confidence among our customers. Indeed, new 2018 offshore project commitments are forecasted to rise approximately 140% as compared with 2017."
This confidence is mirrored by what Corvus Energy experienced in 2017—a meteoric 350% increase in order intake from the offshore oil & gas sector compared to 2016. Indeed, the total market for ESSs on offshore support vessels—including platform supply vessels, cable laying vessels, and construction vessels—grew 217% percent. Moreover, just two months into 2018, and it looks like interest will not abate.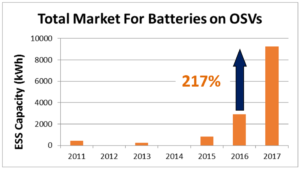 Fueling this uptake in Energy Storage Systems (ESSs) is the need for operators of offshore support vessels (OSVs) to improve competitiveness and their bottom line by investing in hybrid technology.
With emissions limits becoming more stringent, and fuel costs on the rise, operators of OSVs are looking to fuel efficiency measures to help them avoid costly alternatives. Further, with an increasing number of customers and regulators mandating emissions control, OSV operators look to hybrid propulsion for a competitive shot at new charters. Hallvard Klepsvik, North Sea Shipping CEO, said this of their decision to hybridize their North Sea Giant subsea construction vessel: "For us, it is important to reduce environmental emissions and modernize the vessel to make it more competitive."
Corvus Energy leads with 70% market share
Growth of ESSs in this sector has been driven primarily from North Sea offshore operations. But operators in the Gulf of Mexico and other offshore hubs won't be far behind.
Louisiana-based SEACOR Marine will be the first OSV owner to operate hybrid OSVs in the Gulf of Mexico—four vessels owned and operated by SEACOR and additional vessels owned by their joint venture with COSCO Shipping, SEACOSCO. Read more…
Corvus Energy to Power all Hybrid PSVs in the Gulf of Mexico
Corvus Energy, the supplier for 70% of ESS capacity on OSVs, works with all major hybrid OSV propulsion system integrators.
"We are proud to have been selected as the battery supplier for most of the hybrid OSVs in service today, and are excited that the Gulf of Mexico will soon start to see the environmental benefits achieved in the North Sea," said says Halvard Hauso, SVP Business Development at Corvus Energy. "The economics of hybridization are now very favorable."
Proven environmental and economic benefits
In North Sea offshore operations, seven Norwegian ship owners—DOF, Eidesvik Offshore, Havila, North Sea Shipping, Østensø Rederij, Solstad Farstad, and Ugland —have hybrid OSVs in their fleets. In addition, the Netherland's Fafnir Offshore and Denmark's NKT also have hybrid offshore vessels serving the North Sea and the Norwegian continental shelf.
"In Norway, we produce oil and gas with half of the CO2 emissions per produced unit compared with the global industry average," said Arne Sigve Nylund, executive vice president, Development and Production Norway at Statoil, which achieved its target to reduce CO2 emissions on the Norwegian continental shelf (NCS) four years ahead of schedule. Using hybrid OSVs is one of Statoil's emissions-reducing initiatives. Nylund continues, "We aim to reduce CO2 emissions from the NCS by another 2 million tonnes by 2030."
The green trend migrates to the Gulf of Mexico, with SEACOR Marine selecting Corvus Energy to supply ESSs for all hybrid OSVs newbuilt and retrofit vessels to date.
We at Corvus Energy are excited to be accelerating the transformation of the marine industry to a cleaner future.
Subscribe to Corvus Energy Updates and Follow Corvus Energy on LinkedIn to receive all news and articles as they are posted.