This article is one in a series highlighting the five remarkable design features incorporated into the Orca™ Energy Storage System (ESS) product line design—a design that earned Corvus Energy the Electric & Hybrid Marine Technology 2017 Innovation of the Year award, as well as the BC TIA Technology Impact Award for Excellence in Product Innovation.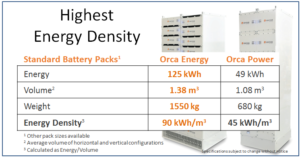 The Orca product line consists of two distinct ESS platforms—Orca Energy and Orca Power—each using different battery cell technology with optimized performance characteristics to match high energy demands or high power demands, respectively. In this article, we explore the technology, ideal uses, and three examples of Orca Energy ESS in marine applications.
Unparalleled Energy Density Reduces Cost by 40%
Orca Energy ESS offers a compact design, packing 1.6 MWh in a volume equivalent to a 20 foot shipping container. The key to its compactness is the high energy density of the lithium-ion battery cells in combination with Corvus' innovative and award-winning battery module and pack designs—energy density that is unparalleled in the industry.
Moreover, the new design resulted in a 40% drop in the cost per kilowatt-hour of stored energy, opening the flood-gates for accelerated adoption of Corvus Energy's lithium-ion battery energy storage systems.
Longer-Haul Vessels Now Among Ideal Uses
High energy density has made Orca Energy ESS an economically viable energy storage solution for a wide variety of uses. Orca Energy ESS performance is, however, optimized for energy storage uses with relatively constant power loads and discharge rates. As such, the Orca Energy ESS is well suited to electric or hybrid passenger and cargo ferries, tugs, supply vessels, cruise ships, and yachts. Operating at zero or low emissions in harbour and in sensitive marine environments is now more practical and affordable than ever.
Orca Energy ESS is also a viable alternative for spinning reserve, uninterruptible power supply (UPS) or fault ride-through for the entire power system or for subsystems.
Three examples of Reduced Emissions and Fuel Costs:
Viking Princess supply vessel conserves an estimated 1 tonne of fuel per day. Wärtsilä selected Corvus Energy to supply Orca Energy ESS for the retrofit of a second Eidesvik offshore platform supply vessel, the Viking Princess, following the successful retrofit of the Viking Lady. The Viking Princess is a state-of-the-art offshore supply vessel designed to safely service offshore installations in the extremely harsh waters of the North Sea. The 533kWh Orca Energy ESS will be installed on the vessel in a hybrid arrangement. It replaces one LNG genset, approved by DNVGL & NMA as spinning reserve, and will result in one tonne of fuel savings per day."Corvus Energy, and more specifically the Orca Energy ESS, was selected for its compelling safety, performance and return on investment," said Dag Håvard Håvardsholm of Wärtsilä. "Based on the innovative approach of Orca and Corvus' industry leading experience, ship owner Eidesvik has complete trust in this solution."
Hybrid chemical tanker runs fewer diesel generators. A new hybrid chemical tanker built for Rederiet Stenersen of Norway is the first vessel of its kind to utilize an ESS. Orca Energy ESS integrates with WE Tech Solutions' hybrid power and propulsion systems, and will allow fewer diesel generators to run for certain operations—improving efficiency, reducing the emissions and lowering noise levels, and making it the most environmentally friendly chemical tanker ship in the Rederiet Stenersen fleet."Corvus Energy's industry leadership and experience made our selection of Orca a very straightforward decision," said Niklas Jakobsson Project Manager at WE Tech. "The innovations Corvus has achieved on cost, safety and performance have created an extremely compelling energy storage solution."
Polar cruise vessel set for zero emissions. Two new polar expedition cruise vessels are being built for a European expedition cruise operator. Corvus will supply Orca Energy ESS to provide supplemental energy to the vessels in order to improve performance and reduce both operating costs and emissions.Each polar exploration vessel has been outfitted to handle up to 6MWh capacity of Orca Energy ESS to provide operational power. The vessels will be capable of cruising silently and emissions-free on ESS battery power alone into pristine locations, providing its passengers with the experience of exploring some of the world's most exceptionally beautiful and unspoiled natural surroundings.
Rapid Adoption of Orca Energy ESS
"These latest orders show the viability of energy storage for the hybridization of longer-haul vessels," said Halvard Hauso, SVP Business Development of Corvus Energy based in Bergen Norway. "As the cost of lithium ion batteries continues to improve we will see more and more applications beyond the traditional ferry and tugboat base."
Whether Orca Energy is selected for its high energy density and low cost per kWh, or Orca Power is selected for its high discharge/charge rates and dynamic response, Orca ESS a practical and economical solution for an increasing number of marine applications. Since its introduction in June 2016, Orca ESS has been selected for over 30 projects totaling over 25 MWh, and the technology will only continue to improve the viability of our systems in a greater range of maritime applications.
This concludes the third in a series of articles about what makes Corvus Energy ESS different from all the others. Subscribe to Corvus Energy Updates or Follow Corvus Energy on LinkedIn to receive all articles as they are posted.
View the preceding articles: Five Remarkable Features of an Award-Winning Marine Energy Storage System  and Energy or Power – Which does your electric or hybrid marine application need?