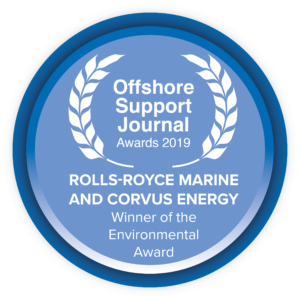 Corvus Energy and Rolls-Royce Marine win Environmental Award at the 2019 Offshore Support Journal Conference
The Environmental Award is awarded to a company, project or product that has made a significant contribution to a reduction in the environmental footprint of the OSV industry.
February 12th, 2019 – Rolls-Royce Marine and Corvus Energy won the Environmental Award, sponsored by BDO-UK, at the Annual Offshore Support Journal Conference, Awards & Exhibition in London. The award was received for joint efforts in developing a state-of-the-art battery energy storage system requested for eight Rolls-Royce-designed, DNV GL-classed, newbuild platform supply vessels (PSVs) from COSCO Shipping Heavy Industry (Guangdong) shipyard. These PSVs will be operated by SEACOR Marine Holdings for worldwide operations once delivered as part of the vessel owner's global hybridization program.
Martyn Wingrove, editor of Offshore Supply Journal, points out that the technology was accepted and ordered for a ground-breaking newbuilding program in what is perceived as a tough time for this type of capital investment. In further recognition of their vision and environmental commitment, SEACOR Marine was also awarded Shipowner of the Year and its chief executive, John Gellert, was named OSJ Industry Leader.
The award marks a milestone, Wingrove continued: "Offshore support vessel (OSV) owners recognise the operational and financial benefits of investing in new ships with hybrid propulsion and energy storage systems
The offshore industry from across Europe, the United States, and key established and emerging markets from around the globe were represented at the OSJ Conference, with over 500 industry professionals converging in London for this year's event on February 6-7. A highlight of this event is its dinner and awards, recognizing industry-leading innovation, operational excellence and achievement—voted on by a combination of distinguished judges and the readers of Offshore Support Journal.
From dozens of award nominees, a shortlist is determined by the Offshore Support Journal Conference Advisory Panel comprised of a distinguished panel of judges from all sectors of the industry with many years of international offshore experience. The final winner the award is determined by the votes of the readers of the Offshore Support Journal.
"We are honored to receive the Environmental Award together with Rolls-Royce, and we congratulate SEACOR Marine for their awards at the OSJ's Annual Offshore Support Journal Conference Awards and Exhibition," said Halvard Hauso, EVP Sales & Marketing at Corvus Energy (second from left in photo). "We at Corvus Energy are very proud to be the leading provider of safe and proven energy storage solutions, which enable an increasing number of hybrid offshore vessel operators to dramatically reduce fuel consumption and harmful emissions."
Corvus has a substantial track record of energy storage system (ESS) deliveries for offshore vessels. Corvus ESSs are proven to enable these vessels to consume less fuel, operate more efficiently and effectively, and emit substantially fewer greenhouse gases.
About Corvus Energy
Corvus Energy provides high power energy storage in the form of modular lithium ion battery systems. Its purpose-built, field-proven battery systems provide sustained power to hybrid and fully electric heavy industrial equipment, including large marine propulsion systems.
For more information visit: www.corvusenergy.com
Media Contact: Sonja Vernoy Hansen +47 99309309 svhansen@corvusenergy.com