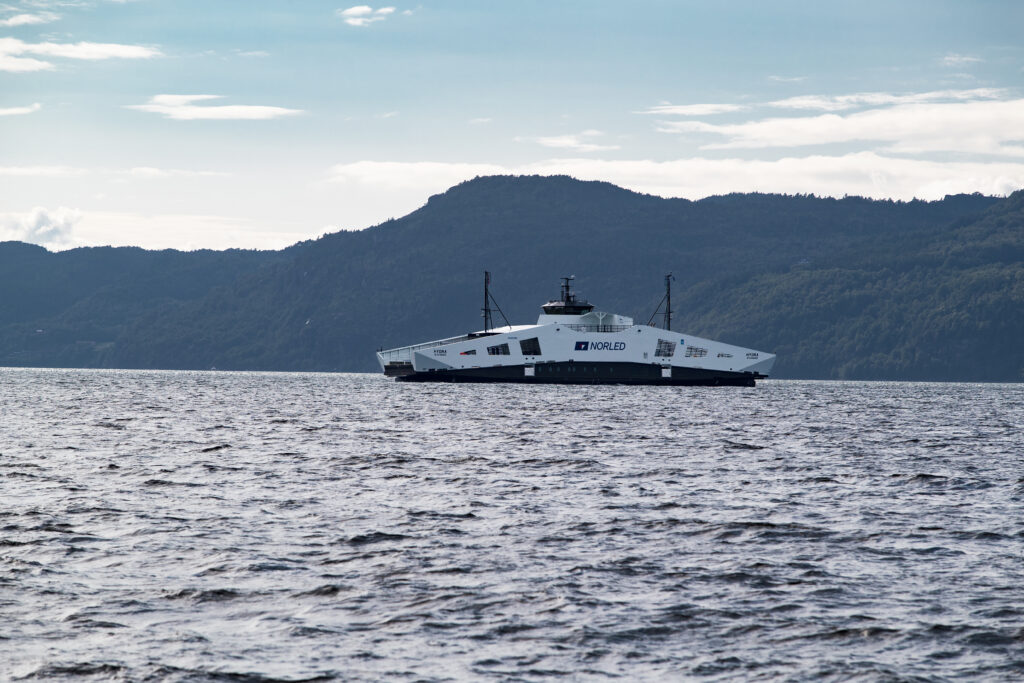 Corvus Energy is proud supplier to Ship of the Year 2021 "MF Hydra" – the world`s first Hydrogen Ferry.
The award is presented in below featured article from Skipsrevyen .
Read the original article in Skipsrevyen written by Av Sigbjørn Larsen & Helge Martin Markussen here
MF 'Hydra' named Ship of The Year
Minister of Transport and Communications Knut Arild Hareide hands out this year's Ship of the Year on board MF 'Hydra'
This year's Ship of the Year from Skipsrevyen goes to the world's first hydrogen-powered ferry, MF 'Hydra'. Minister of Transport and Communications Knut Arild Hareide presented the award today, September 8, on board the ferry in Hjelmeland. MF 'Hydra' was built for Norled at Westcon Yards in Ølen and designed by LMG Marin.
"This shows that climate-friendly innovation is created by the best possible collaboration between business and the authorities, " says Hareide."It also shows that the government's investment in green ferries by stimulating low-emission and zero-emission ships through tender requirements and support for electrification and alternative fuels, among other things, is bearing fruit. Norway is at the forefront of this new technology. Now it is about enabling us to capitalise on the lead we have to take a position internationally that benefits Norwegian shipyards, shipping companies and suppliers", says the minister.
Has solved the handling and storage of hydrogen
"The shipping company, design company and shipyard have solved both storage and handling of hydrogen, " says the jury's head Gustav Erik Blaalid, the editor-in-chief of Skipsrevyen. "Hydrogen and electric operation make MF 'Hydra' one of the most environmentally friendly ferries in the world. Hydrogen, which is a zero-emission fuel, also shows promising properties to be an alternative fuel for ships, even over longer stretches of sea", says Blaalid. "MF 'Hydra' is the first hydrogen ship approved by the Norwegian Maritime Directorate, Norway's government accident watchdog DSB and risk management experts DNV. Through the project, knowledge has been established that will have great transfer value to a future fleet of zero-emission ships, and thereby contribute positively to the climate accounts", says Blaalid.
Paves the way for extensive use of hydrogen at sea
"It is a proud group that receives this year's Ship of the Year, " says Torbjørn Bringedal from LMG Marin. "'Hydra' is the result of an exclusive, close and creative collaboration between the shipping company, designer, equipment suppliers and shipyards that first started in 2017 and will continue until the last piece is put in place. With a new type of technology and no compromise on safety, the solutions chosen for 'Hydra' are untraditional but still scalable for more long-distance and power-intensive ship types than shuttle ferries. This, combined with the 'Hydra' project's qualification of hydrogen equipment for ship use, paves the way for extensive use of hydrogen at sea, and several hydrogen vessels are already on the drawing board", says Bringedal.
Together we are even better
"We have had a very good collaboration with designers, shipping companies, equipment suppliers and hull shipyards. Each of us is good, but together we are even better. That is a bit of a success factor," says Einar Matre, director of new construction at Westcon Ølen.
Means an incredible amount for Norled
"This recognition means an incredible amount to us at Norled! MF 'Hydra' is a vessel we have worked with for a long time, invested a lot of time and effort in, and collaborated on with many. When we receive this award, there are many we will share it with – internally and externally," says chief executive Heidi Wolden.
For Norled, she is aware that MF 'Hydra' marks the beginning of what she refers to as the hydrogen adventure.
"It is a milestone for the industry and Norled. In 2014 we were so lucky to win Ship of the Year for MF 'Ampere'. It was also the start of an electric revolution in the ferry industry. Seven years later, we have now come to the hydrogen vessel, MF 'Hydra'."