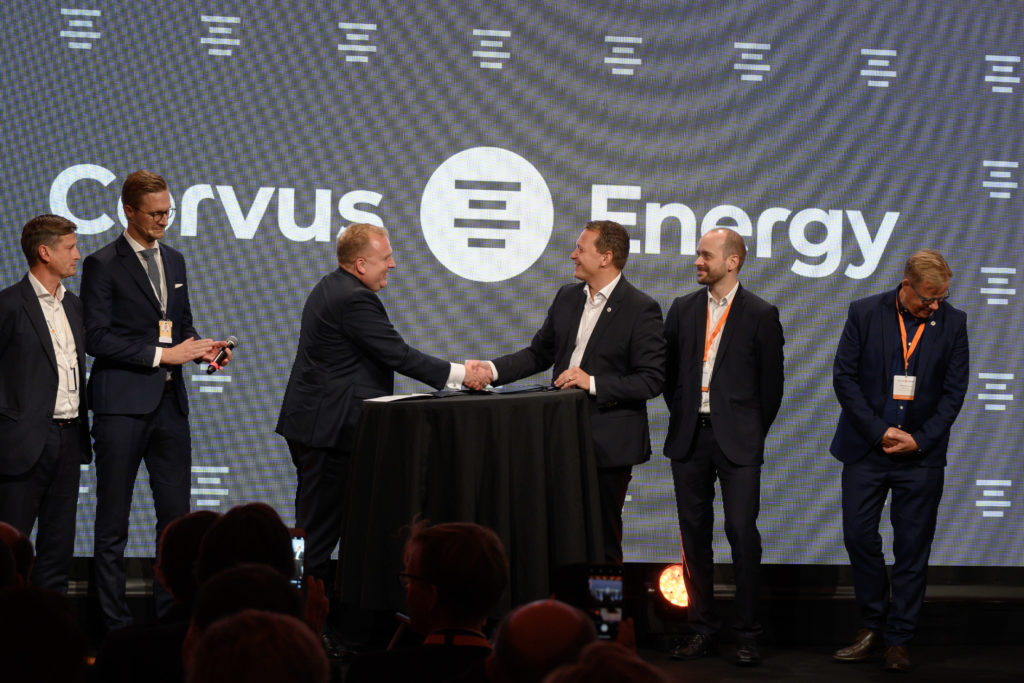 From left: Corvus Energy – Halvard Hauso, EVP Sales and Marketing; Gisle Frydenlund, COO; and Geir Bjørkeli CEO. Felix Eichhorn, President, AIDA Cruises; Sebastian Sala, Head of Innovation and Energy Management, Carnival Maritime and Hansjoerg Kunze, VP Communication and Sustainability, AIDA Cruises.
Bergen, Norway and Richmond, British Columbia, Canada – September 12, 2019. Corvus Energy has officially signed the contract with AIDA Cruises for the world's largest battery package to be delivered for a cruise vessel. The order is for a 10MWh Energy Storage System (ESS) to be installed on board AIDAperla in 2020. AIDAperla, built in 2017, has the capacity of 3300 passengers and a crew of 900.
"Corvus Energy is an important partner for us," said AIDA President, Felix Eichhorn. In August, AIDA Cruises announced that it will partner with Corvus Energy to provide batteries for their cruise vessels for both zero-emission sailing and low-emissions hybrid operation with peak shaving. "We believe in a combination of different fuels, power and efficiency gains in order to reduce our carbon footprint. The integration of innovative battery technology into our 'Green Cruising Strategy' is an important step we are taking on our path towards emission neutral ship operation. We are very happy to be teaming up with Corvus Energy for this project."
Geir Bjørkeli, CEO of Corvus Energy is very pleased to have entered into the partnership and to have signed the first contract with AIDA. "We are deeply honoured to be selected by AIDA and Costa Cruises as their ESS supplier. This first contract for AIDAperla is also very special. It is not only the largest battery pack ever ordered; it is also the first regular cruise vessel with battery on board," said Bjørkeli. "The cruise industry is seeing the potential in energy storage as the benefits are numerous—not only for emission reductions, but also for comfort and safety reasons," Bjørkeli adds. "What AIDA does, will lead the way for others. We are impressed by the initiatives shown by Costa and AIDA Cruises to reduce the emissions from their fleet."
Halvard Hauso, EVP Sales and Marketing in Corvus Energy explains that more cruise companies will follow. "We have had a lot of inquiries from all over the world and we expect the uptake of batteries in the cruise industry to increase significantly in the years to come," Hauso says. "The environmental regulations are becoming more and more strict, and there is also an increase in the environmental awareness of the passengers. We see that our technology can assist the cruise industry in reducing their environmental footprint."
###
About AIDA Cruises
AIDA Cruises is Germany's leading cruise line and currently employs around 15,000 people from over 50 countries, 13,500 on board its 13 ships and 1,500 at the company headquarters in Rostock and Hamburg. After putting AIDAnova, the world's first cruise ship that can be fully powered with low-emission LNG, into service in December 2018, the company will build two more of these innovative ships by 2023. By the end of 2023, ninety-four percent of all AIDA guests will be sailing on ships that can be fully powered with low-emission LNG or, where possible, green shoreside energy at port. AIDA Cruises is part of Carnival Corporation —the world's largest cruise holiday company with a combined fleet of over 100 vessels across ten cruise line brands.
About Corvus Energy
Corvus Energy is the leading supplier of energy storage systems (ESS) for maritime, offshore, subsea and port applications. Corvus Energy offers a full portfolio of ESS suitable for almost every vessel type in the form of modular lithium ion battery systems. The purpose-built, field-proven energy storage solutions provide sustained power to hybrid and all-electric heavy industrial equipment, including large marine propulsion drives. Corvus Energy has unsurpassed experience from 200+ projects, totaling over 200MWh and more than two million operating hours.
For more information, please visit www.corvusenergy.com
Media Contacts:
In Europe and Asia
Sonja Vernøy Hansen
Marketing Communications Manager
+47 99 309 309
svhansen@corvusenergy.com
In North America
Sean Puchalski
Executive VP Strategy & Business Planning
(604) 227-0280 ext. 123
spuchalski@corvusenergy.com