DAY 1: Grand opening of our new factory in Bellingham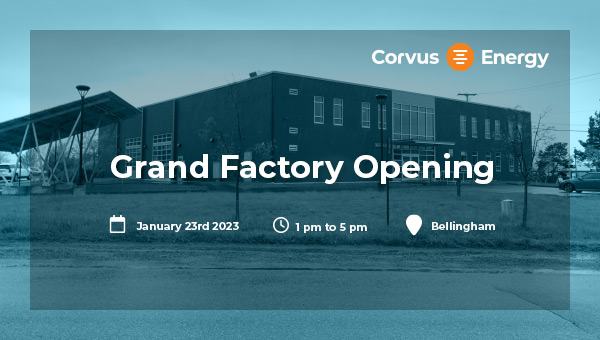 You are cordially invited to celebrate the official grand opening of Corvus Energy USA's new battery manufacturing facility in Bellingham, WA
We hope you can join us for a tour of our brand-new production facility, where you'll get a firsthand look at our manufacturing line and hear about our vision for the North American Market.
Please join us for the opening ceremony on January 23rd from 1 to 5pm in Bellingham, WA. Champagne and hors d'oeuvres will be served.
Event Location, Parking & Transporation
Bellingham, WA is located approximately 90 miles/ 145 kilometers north of Seattle, WA and 55 miles/ 89 kilometers south of Vancouver, BC. The Corvus Energy facility in Bellingham is located at:

Location:
Corvus Energy
300 Harris Avenue
Bellingham, WA 98225
Parking & Arrival:
Parking is available onsite behind the Corvus Energy building. Please enter via the front of the building. Corvus Energy representatives will be available to welcome and guide guests upon arrival.
Transportation Provided by Corvus Energy:
For individuals who requested in advance, chartered transportation will be provided from Seattle to and from the event. For details and schedule, please reference the email sent to reserved individuals on Jan 20, titled Transportation details for Corvus Grand Opening.
DAY 2: Corvus Green Shipping Conference in Seattle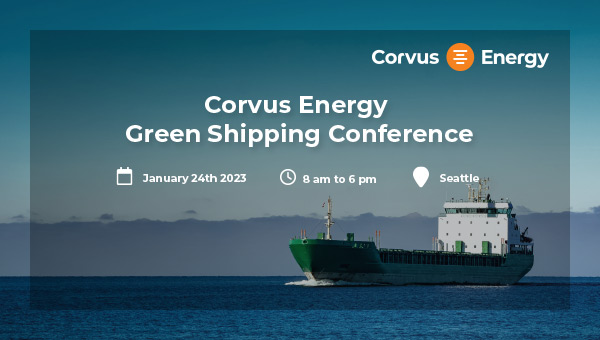 We hope you can join us, and our other distinguished guests, for the Corvus Energy Green Shipping Conference at the National Nordic Museum in Seattle, WA.

Join us for a day of insights and discussions with maritime industry professionals from across the globe and federal legislators to learn more about the latest regulations and initiatives related to shipping decarbonization in the US and around the world.

The event will take place at the National Nordic Museum in Seattle, WA on January 24th from 8am to 6pm. Food and refreshments will be served.
Delegates will come away with a deeper understanding of:
Status and outlook on maritime decarbonization
Industry trends with a focus on electrification and incentive structures
Latest in technology development of marine batteries and fuel cells from Corvus Energy
Panel discussion around the importance of collaboration and aligning goals and objectives
Recent success stories to illustrate what is possible
Battery safety
Conference Location, Transportation & Parking
Location:
National Nordic Museum
2655 NW Market Street
Seattle, WA 98107
Parking & Transporation:
Limited, paid self-parking available onsite. Consider Uber or other transportation options to avoid parking. More information regarding paid, self-parking follows.

The National Nordic Museum paid parking lot is located on the south side of the building at the corner of NW Market St and 28th Ave NW. Parking rates are $2.00 per hour. Pay for parking at kiosks located at the base of the stairs. Alternative parking options are available along NW Market Street and at the Hiram Chittenden Locks parking lot—a five-minute walk to the Museum.